Today was one of the most productive days of television that I have ever known. It all started with a Being John Malkvoich showing on Bravo--just the best fucking cable station in the books--than two episodes of "Queer Eye," came on, then the peak came when I was at my baby-sitting job with all of their crazy DirectTV movie channels and THE FUGITIVE came on and then when I get back to the house, we change the station to Bravo (again, I love Bravo) just as HIGH FIDELITY is beginning! Two movies set in Chicago and one about a man born near Chicago and very much of Chicago (i.e. John Malkovich) all in one night!
If one reviews all of the films that take place in Chicago--
that have actually been filmed here
--one cannot help but be amazed at the high level of greatness that these movies attain when averaged together. Blues Brothers, Ferris Bueller's Day Off, Sixteen Candles, Home Alone, The Fugitive, High Fidelity, Road to Perdition, hell My Best Friend's Wedding even (though they had some geographical difficulties with their filming).
Oh, and screw all of the movies that purport to be set in Chicago but are freaking filmed in Toronto (cough cough My Big Fat Greek Wedding and sin of all sins, Chicago itself) or even worse in Manhattan (as much as I lovvvve Meet the Parents, it is a cardinal sin to try to pass off Manhattan or any section of NYC as Chicago).
A true Chicago movie is filmed here because the city has a certain aura about it, a certain je ne sais quoi if you will (haha sorrrry, sooo pretentious!). But yes, Chicago is a grounded city with tons of character, and when a filmmaker chooses to shoot here, they have a clear idea of what they want.
Now, a word about a couple of these great Chicago movies. First, High Fidelity: it is just an excellent film. One of my friends hates it because she thinks the main character, Rob Gordon, is a self-centered prick and the movie is a male whine-fest, if I understand her correctly. In my opinion, one of the most impressive feats of High Fidelity is the complex portrayal of Rob: he's self-centered yes and at times in desperate need of a good stroking of his ego, but he's incredibly endearing and the self-preoccupied aspect of him is mocked throughout the film, not championed. And on a final note and just two simple words: Jack Black.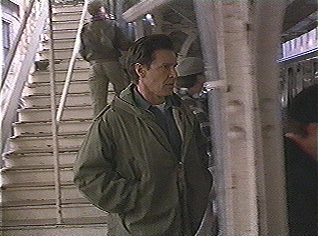 Alright, as for The Fugitive, it is a brilliant movie. I never really appreciated it before tonight, but it has a very clever plot and uses its setting expertly. A successful surgeon, Richard Kimble, becomes the number one suspect in his wife's murder, and as he runs from the law he determinedly hunts for the man who actually killed his wife. Not only is The Fugitive set in Chicago but it utilizes the city brilliantly. For one thing, Chicago Memorial Hospital, where Kimble and his prestigious, opportunistic, and dare I say seducitve? friend, the neurologist Dr. Charles Nichols work is clearly supposed to be Northwestern Memorial Hospital, the top hospital in Chicago (next to U. of Chicago I suppose). Having worked for a Northwestern Memorial medical practice, I must say these doctors seem so fittingly Northwestern. Particularly Dr. Nichols who is rather cocky and is involved in a high paying pharamaceutical study that turns out as a very interesting and in fact vital piece in The Fugitive's complex plot. Another great Chicago moment in The Fugitive is an expert chase scene that takes place at the city's annual St. Patrick's Day parade in the Loop.
Now you can see why I had such a good television day. I must say, if I go out of my way and choose to watch television all day, the results just doesn't get any better than this.
P.S. An entry about how much I love this great city, the White City, the city that I was born in, lived in, have worked in, have been entertained in, have so many memories about, well that entry will come at a later date.